FM Employee Recognition Awards
All Star
February 2022 Awardee
Mark Garcia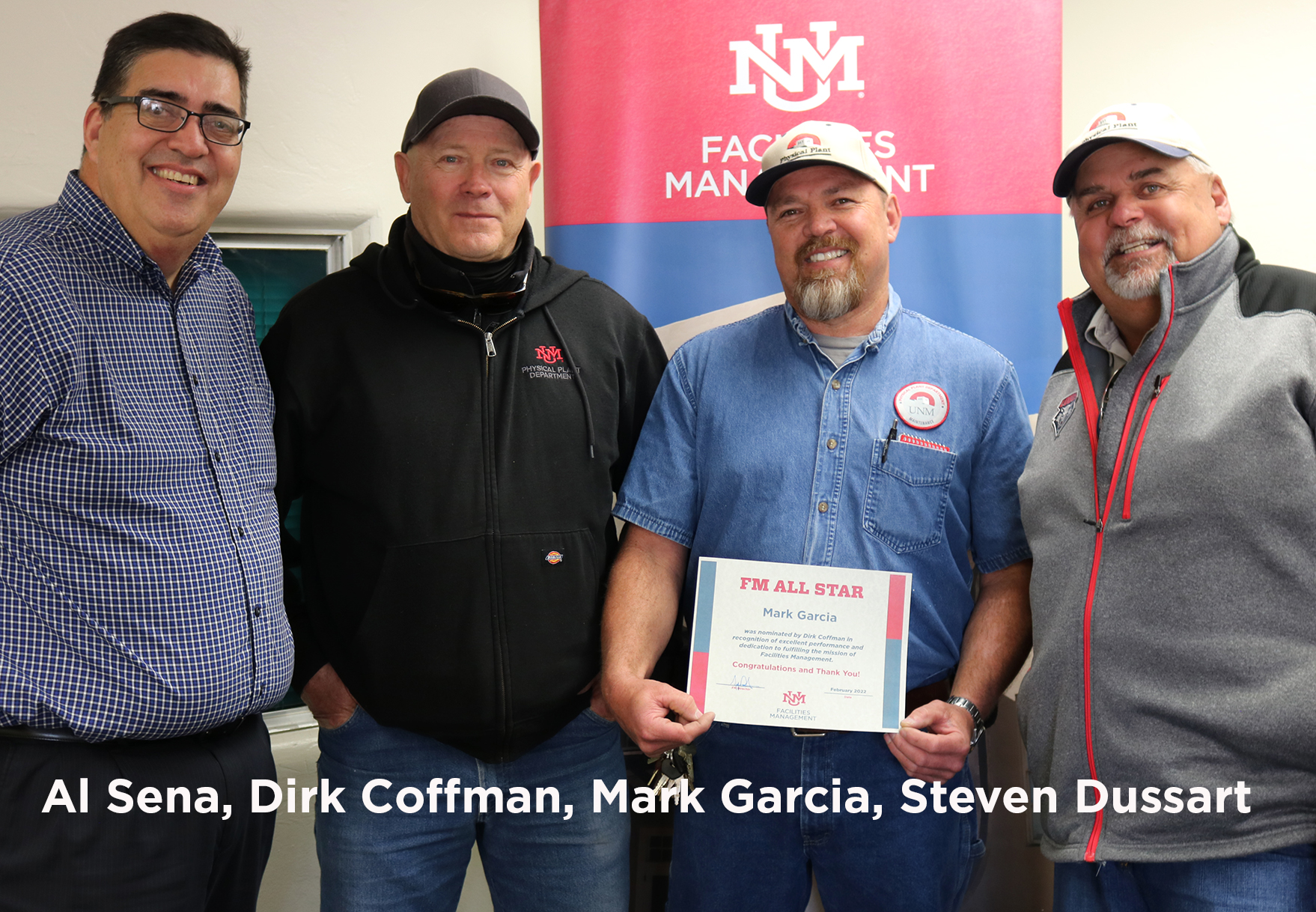 Mark is a dedicated, honest, and productive team member of FM Area 3. He continually excels in the most difficult situations. He was major contributor to taking the expensive art work down and putting it back up at Zimmerman library a few years ago. Mark discovered the leak before it became an issue. He continually recognizes the safety of students and staff as a high priority. With excellent attendance and always being on time, you can always depend on Mark to take on any size challenge. Mark is an extraordinary and professional example of FM's commitment to service, safety and everyday operations of the UNM community..- Nomination by Dirk Coffman
The All Star is given by managers and  supervisors to staff who have successfully done their job every day, have contributed to the success of a project, went out of their way to assist another employee, etc.
---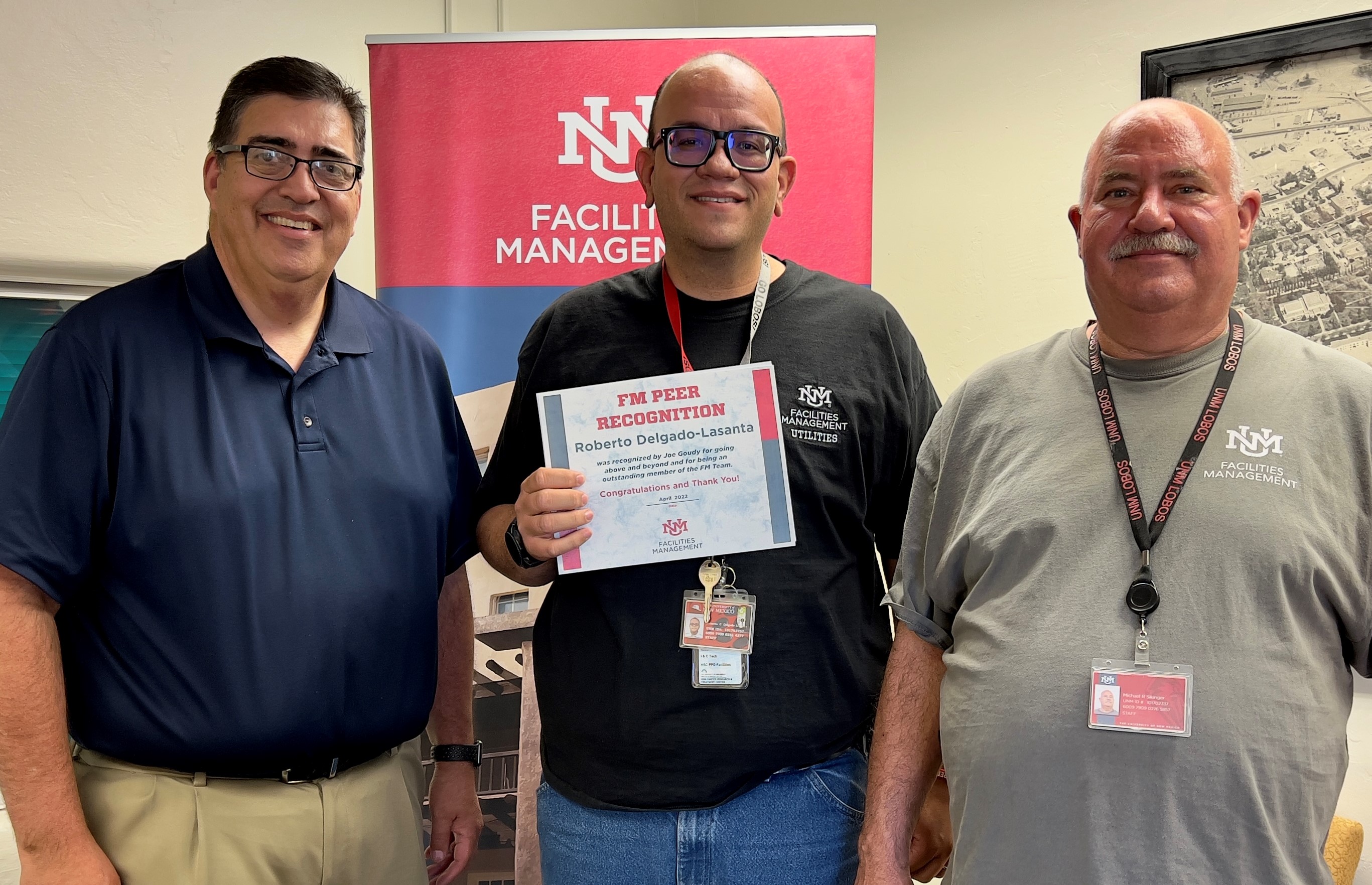 Johnathan is a great team player. His reporting knowledge and skills, particularly on project reporting, are exceptional. I have collaborated with him on numerous occasions regarding customizing various project reports for the E&ES division, and he is extremely attentive and responsive. He is a tremendous asset to FM. Thank you, it is enjoyable to work with you!.- Nomination by Acacia Chavez
 This recognition is given by staff to their peers for activities that may warrant something more than a verbal "thank you." Examples may be providing extra help on a project, notable acts of kindness, being an extraordinary team player, etc.
Description and Criteria
NOMINATE HERE
---
Supervisor Spotlight
4rd Quarter 2021 Awardee
Brandon Coriz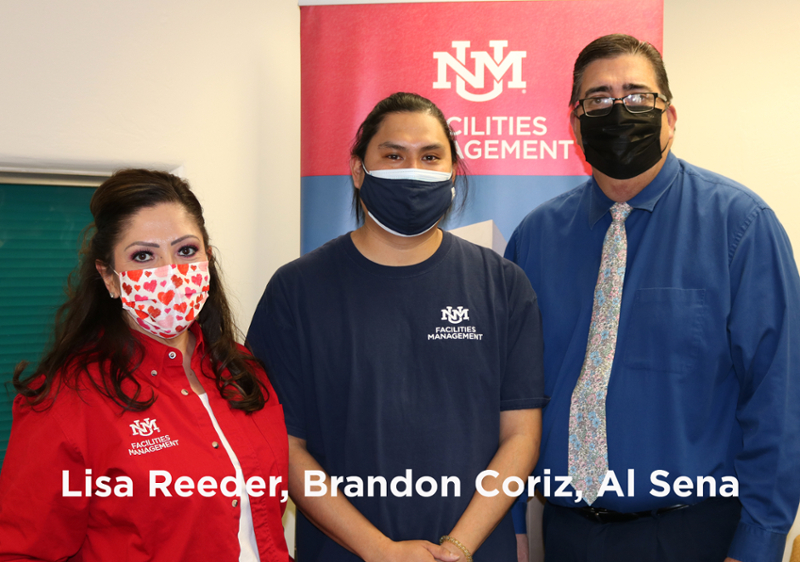 Brandon Coriz has worked his way up the Custodial Service starting as a Custodian, a Lead Custodian and now a Supervisor. Brandon took advantage of every position and learned as much as he could along the way. Brandon has taken on his position as a Supervisor with a can-do attitude and hit the ground running. He has met his fair share of obstacles but took each one as a learning experience and continued on. I want to thank Brandon for taking on the Supervisor role and being the breath of fresh air the team needed.- Nomination by Lisa Reeder, Manager, Main Custodial
This award is given to supervisors who display excellent leadership skills in a situation, went above and beyond on a project, and/or have shown themselves to be an asset to the FM department and/or UNM through a particular act.
Description and Criteria
NOMINATE HERE
---
Outstanding Manager
2020 Awardee
Steven Dussart
On June 23, in a surprise ceremony at the Dominquez Fountain Plaza, Steven Dussart, manager of FM Area 3, was presented with the 2020 Outstanding Manager of the Year award.
Dussart was nominated by one of his staff members who highlighted his commitment to customer service and his respect for the work crews. In accepting the award, Dussart gave all credit back to his Area 3 staff who were in attendance.
"This award is all due to you and the great work you do, especially this past year," said Dussart.
FM staff have been working on campus from the beginning of the COVID-19 pandemic to keep facilities and grounds operational and to ready them for the return to in-person operations.
FM Director Al Sena also recognized the staff in honoring Dussart. "The effort of the Area 3 team is commendable. We receive compliments on the condition of your facilities and that reflects not only a great team, but great leadership."
"Area managers have received this award the past three years and that is something that I'm very proud of and something we all should take pride in," said Dussart's supervisor, Facilities Maintenance Manager Vince Chavez.
At the ceremony, Dussart was given an engraved award and his name will be added to the Outstanding Manager plaque that hangs in the Service Building.
The previous award winners include Dave Gauthier from Area 4, Leo Lucero from Area 2 and the late Dave Simpson from Area 1. HSC Custodial Manager Michael Crocker was the inaugural award winner in 2016.
Nominations for the 2021 Outstanding Manager will open in February 2022.
This award is given to an FM Manager who provides excellent customer service, is an asset to their unit, has made significant contributions to the success of their work  group, and/or has promoted a positive work environment for their staff.
---
Employee Recognition Committee:
Erika Alas
Leo Lucero
David Penasa
Daniel Perea
Dave Thomas