Focus@FM
12/11/20 Focus@FM Bulletin
 

Employee Recognition 
Nominations are open through the end of December for January All Star and Peer Recognition awards. Also open are nominations for the FM Supervisor Spotlight for 4th Quarter 2020.  
Information on awards and links to nomination forms can be found on the Employee Recognition page. 
Division Updates

 
Utilities  
Utilities would like to congratulate the following staff:   
James Valdez for completing all in-house training and requirements to advance to the position of Master Utility Plant Tech

 

Joseph Goudy, Johnny Chacon, and Ashley Thomas for completing all in-house training and requirements to advance to the position of Utility Plant Tech 1

 

Chris Minssen for being selected as Plant Operations Supervisor

 
I
n other Utilities news, the 200-kilowatt photovoltaic system on the roof of Zimmerman Library has been completed and is in the final approval process with PNM.
Due to our reduced operations status, FM-Utilities gas-turbine generators produced 81% of the University's electrical power requirements in October. Last year, it was 57%.
Engineering and Energy Services 
E&ES project updates:

Center for the Arts - A building-wide fire alarm system is being installed with completion anticipated in September 2021.

 

Economics - Building HVAC, Lighting, and fire alarm systems are being replaced with completion in December 2020.

 

Energy incentives received from PNM as part of our Optimized Performance and Energy Conservation program has now exceeded $1 million over the past 10 years.
Environmental Services 
Recycling was happy to again partner with UNM Staff Council on the 13th Annual Happy Tails Drive for Animal Humane New Mexico. Staff helped facilitate the collection of donations at the recycling yard throughout the month of November. After the drive, Recycling Supervisor John Shaski presented a check to Animal Humane for over $1,500 in addition to the donated food, toys, beds, etc. gifted by the generous UNM community.  
Parking Update From PATS 
The construction of two new UNMH clinics beginning on January 4, 2021 will result in the loss of 321 parking spaces in the M-lot immediately northeast of the Service Building (Observatory Lot). Please be aware that the existing lot entrances/exits on the north end of the lot will be completely closed during and after construction. There will also be temporary closures of parking spaces in/around the Observatory itself as well as the entrance/exit immediately adjacent (east) of them.  
---
12/4/20 Focus@FM Bulletin
Employee Recognition
November All Star – Arturo Carrillo 
The Employee Recognition Committee would like to congratulate Arturo Carrillo for being named an FM All Star for November. Arturo was nominated by Lisa Reeder. You can read about what made him an All Star on the Employee Recognition page of the FM website. 
The committee received no nominations for December All Star or Peer Recognition awards. Nominations are open through the end of December for January awards. Also open are nominations for the FM Supervisor Spotlight for 4thQuarter 2020. 
Information on awards and links to nomination forms can be found on the Employee Recognition page. 
Division Updates
FM Maintenance has begun the hiring process for Area 1 and Area 4 Manager positions. The Area 1 Manager position is currently open and Area 4 Manager position will be vacant beginning January 1 upon Dave Gauthier's retirement. The postings are open through 12/8 and the details can be viewed here. 

FM Administration is reviewing our standby and on-call procedures and guidelines to help clarify steps and applicable functions. Managers and supervisors will be updated on the progress early next week. 

FM E&ES has been working with PD&C to improve commissioning processes for projects our department supports. Good progress is being made and the effort will streamline outcomes and align expectations for projects in the future. 
FM Administration is assisting HSC on the contractor selection for the upcoming College of Nursing and College of Population Health construction project. 
Welcome to Dr. Ziedonis
FM extends a warm welcome to Dr. Douglas Ziedonis, Executive Vice President for UNM Health Sciences and Chief Executive Officer for the UNM Health System. Welcome to UNM!  
11/25/20 Focus@FM Bulletin
Employee Recognition
Nominations are currently open for employee recognition awards. Submit for All Star and Peer Recognition before close of business on Monday, Nov. 30. More information and links to nomination forms can be found on the Employee Recognition webpage.
Mortar Board recognizes Facilities Management 
On Monday, November 23rd, members of the Mortar Board Senior Honors Society invited FM Director Al Sena to a Zoom meeting to express their appreciation for the work the department has done throughout the year, particularly during the COVID pandemic.  
Mortar Board, a national honor society that recognizes college seniors for adhering to the three foundational pillars of scholarship, leadership, and service, thanked FM for furthering those values for the benefit of UNM students.  
Members of Mortar Board shared what they loved about UNM over their academic years and the stories focused on the condition and beauty of campus and how much it enhanced their experience.  
Staff Appreciation Committee Co-Chair Abby Aldrich pointed out, "When they work behind the scenes, we don't always get to show our appreciation." With the pandemic preventing a gathering to offer their thanks in person, Mortar Board shared a card addressed to "the unsung heroes of our University" which included personal notes to the FM staff from each of the members.
Al Sena expressed his sincere gratitude to the Mortar Board for the recognition. "Much of the campus community doesn't see our staff in action, only the results, so it's easy to overlook those doing the work. It's particularly special when our department is recognized by those we are here to serve, the students." 
APPA Facilities Symposium 
Last week, several FM staff participated in the APPA Facilities Symposium where over 37 online sessions were offered, including one facilitated by one of our own, Utilities Associate Director Larry Schuster. Larry shared his vast experience in International Performance Measurement and Verification Protocol (IPMVP). We are fortunate to have such a resource here at UNM. 
Facilities Assessment 
Also last week, FM had a presentation from Gordian (formerly Sightlines) who provided an assessment of our auxiliary facilities. This presentation was one of the final stages of the nearly 2.5-year comprehensive assessment of our building inventory.  
Campus on Restricted Access 
Please be advised the University is now restricted to residents and those authorized to conduct business on campus, such as employees and contractors. Signage on campus has been updated to reflect these restrictions.     
Thanksgiving Break Reminders 
With Thanksgiving upon us, we ask the FM staff to keep our university vehicles and buildings safe and secure this coming weekend by remembering to do the following:  
All university vehicles are to be locked and windows rolled up. Keys need to be properly secured.

 

All university vehicles at the Service Building are to be parked inside the fence. All other vehicles need to be parked in their appropriate location.

 

Secure all tools and toolboxes.

 

Shut off lights, computers, copiers, heaters/fans and other electronics.

 

Set back thermostats (if needed).

 

Empty trash in an exterior building trashcan.

 

This is also a good time to clear out any items in the refrigerator.

 

Lock all office/building doors and set alarms.

 

Reminder

 that most FM staff are considered "Essential" and as such, may be contacted for campus emergencies

 
Stay Safe

 
Remember we value you, so please wear your masks, wash your hands frequently, and practice social distancing. We care about you and those close to you. Have a safe and blessed Thanksgiving! 
11/20/20 Focus@FM Bulletin
This is the first of what is planned to be periodic updates (every week or two as information dictates) for FM staff. It will contain key pieces of information and announcements the FM Director and Division Heads feel need to be shared in a timelier fashion than a periodic newsletter. The format is intended to be short and to the point to accommodate busy schedules. 
Key Departmental Updates
Lock Shop Reporting Structure
Effective November 23, Area 3 Manager Steven Dussart and Supervisor Dirk Coffman will oversee Lock Shop staff and day-to-day operations. Daniel Richard will continue to provide his expertise with ENAC and all other Lock Shop operations. While the internal reporting structure will change, the services provided to the UNM community will remain the same.
We wish Area 1 Manager Dave Simpson well in his retirement. Until a replacement is named, Area 2 Manager Leo Lucero will direct Area 1 operations.
COVID Call Center Delays
As COVID cases increase across the state, there has also been an increase in calls to the COVID Hot Line resulting in extended wait times to get through to speak with someone or leave a message. The call center is expecting to increase FTE's by the end of the month to assist with the increased call volume. If you are self-reporting, please be patient and continue to make attempts to get through to speak with an individual or leave a message on the system. If you leave a message be assured you will be contacted. Your patience is appreciated by the call center team and leadership and their thanks are being extended.
Be safe. Wear your masks at all times, wash your hands frequently and maintain safe social distancing.  
Holiday Celebrations
Due to the pandemic, FM will not hold the annual holiday potluck this year. Individual unit gatherings are to be avoided as well.
---
11/6/20 Congrats to our October All Star and 1st ever Supervisor Spotlight winner!
The Employee Recognition Committee Announces October Award Winners
October All Star - Duane Jones
Duane goes way beyond his scope of work here at UNM. He is always ready to jump in and take care of any problems or concerns. His main job is to ensure the safety of UNM drinking water, and he takes great pride in his work. Without his knowledge of the water system, we would be lost. So, I feel he should be recognized for all his hard work, keeping the University's water safe. - Nominated by David Thomas
3rd Quarter 2020 Supervisor Spotlight - Greg Brachle
Greg is always looking to make UNM Grounds and Landscaping the best it can be. He supports Grounds employees with training sessions, team building and mentorship. Mr. Brachle helped me immensely over the last year to acclimate to my new position with Grounds. Greg routinely takes the time to help his crew members grow in their positions and personally. Mr. Brachle brings a can-do, positive attitude to the office daily, helping to create a great work environment. Greg does many of the little things that go unnoticed daily. He helps orchestrate and execute the maintenance of equipment, the cleaning of homeless camps, and any other issues that may arise daily. Greg is always willing to lend a helping hand. He never seeks the spotlight but, certainly deserves the spotlight for all of his hard work and dedication. - Nominated by Scott Lewis
---
9/24/20 Congrats to our September All Star and 1st ever Peer Recognition winner!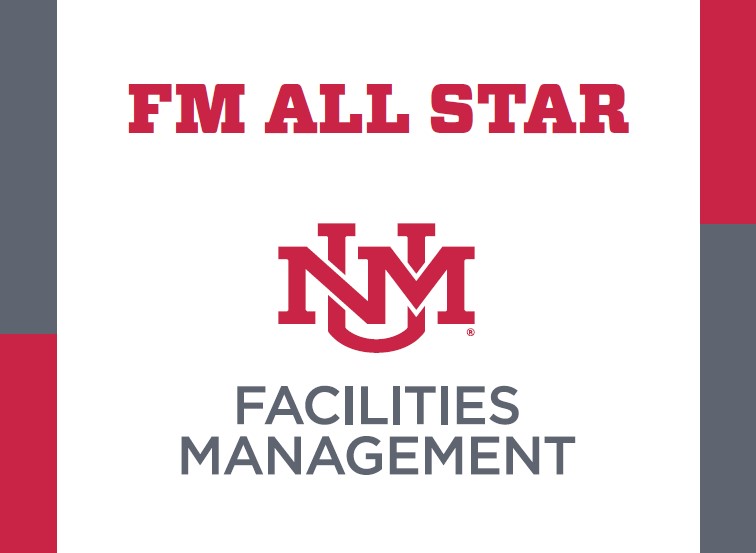 The Employee Recognition Committee Announces September Award Winners
September All Star Ruben Sanchez
Ruben Sanchez (Grounds and Landscaping) has consistently been available for irrigation breaks and malfunctions after hours. He always volunteers for this work and his knowledge of the UNM irrigation system is extensive. He has mentored our newer irrigators, and guides and assists as needed. He has always supported Grounds needs with new building construction and its impacts. He ensures quality and goes out of his way to keep tabs on these projects when we are unable. He creates work orders when none were given for additional work needed. His relationship with UNM, its employees, and contractors is a valuable one. He is fully deserving of an FM All Star. -  Rich Schorr
September Peer Recognition
John Sannar (Main Custodial) is always willing to lend a helping hand, even when it is not his department. John will stop what he is doing to help others and goes beyond his duties to make sure things get done right the first time. John is also part of the COVID cleaning team. – Emmet Martinez (Lock Shop)
---
7/18/20 - Congratulations to July and August FM All Stars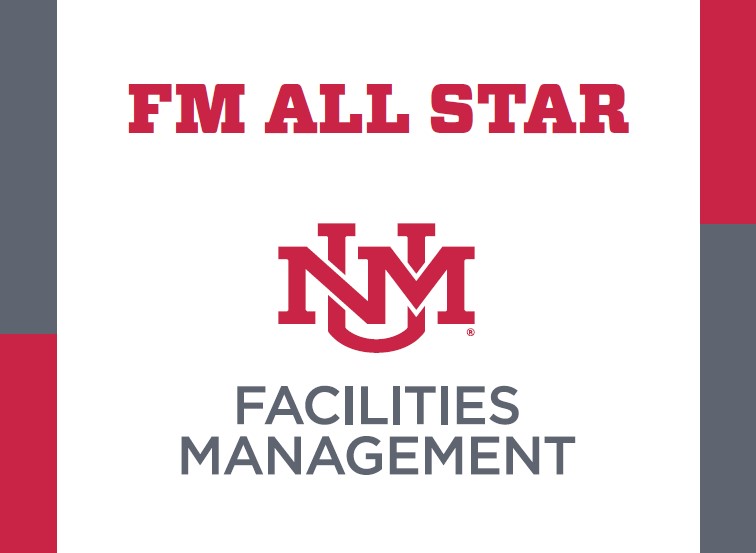 The Employee Recognition Committee Announces the July and August FM All Stars 
July All Star - Tyler Grassie 
As a Plumber 2, Tyler has been a Facilities Management team member in Area 3 for over 2 years. During this time, Tyler has consistently been a dedicated employee who is committed to getting the job completed correctly the first time, on time, on budget, and most important, safely, often exceeding his customers' expectations. Tyler routinely provides outstanding customer service to the students, faculty and staff of Area 3. Tyler quickly responds to plumbing issues that arise in his assigned facilities and he exhibits a genuine concern for the students' learning environment and safety. Tyler regularly makes recommendations and finds solutions to various facility related plumbing shortfalls and issues he encounters. Tyler is always willing to come in early or stay late to address plumbing issues that could possibly impact his facilities and his customers. Tyler is a key contributor to the success of Area 3's Facilities Maintenance team. His vast plumbing and mechanical knowledge equate to timely repairs in his assigned facilities. We are very fortunate to have Tyler as a member of our maintenance team in Area 3. - Steven Dussart, Area 3 Maintenance Manager
August All Star - Joe Sucher 
Joe Sucher has been the Preventative Maintenance Coordinator for the past five years and also administers the Water Management Program for Facilities Management. He is very hard working and a self-starter, which has been invaluable in our effort to transition the Water Management Program in-house from an outside consultant. Joe has been a great asset to the Facilities Maintenance Division in helping keep our buildings in top condition. - Vince Chavez, Facilities Maintenance Division Manager
Other nominees for July and August included:
Jacob Benavidez nominated by Lisa Reeder
Dominique Roark nominated by Nick Royle
Milton Schwab nominated by Scott Lewis
Brian Aragon nominated by Leo Lucero
Acacia Sanchez-Chavez nominated by Bob Notary
Nominations for the September All Star and Peer Recognition awards are open until Monday, August 31st. You can find information on these award programs and nominations forms here: https://fm.unm.edu/for-fm-staff/employee-recognition.html
---
For previous stories, see the FM News