Focus@FM
2/19/20 - Outstanding Manager Nominations Now Open
Nominations are open for the Facilities Management (FM) annual Outstanding Manager Award. This award was developed to appreciate and recognize the qualities of excellence, leadership, and customer service in departmental managers.
Nominations will be accepted until March 31. Anyone at The University of New Mexico can nominate a FM manager for this award. Nomination forms can be found on the home page of the FM website.
To be eligible for this recognition and award, a manager must provide excellent customer service, be an asset to their unit, have made a significant contribution to the success of their work group, and/or have promoted a positive work environment for their staff.
The winner will be announced in April, and their name will be added to the permanent plaque resides in the Service Building. They will also receive a smaller plaque to keep in recognition of their outstanding leadership at FM.
Last year's recipient was Leo Lucero, Area 2 manager for maintenance and construction.
---
2/4/20 - Service Building Entry Facelift 
Under the guidance of FM Grounds and Landscaping, contractors began work on February 4th to make improvements to the Service Building Courtyard. The first steps are to remove the existing flagstone which is crumbling and heaving presenting a safety hazard. Once the area is cleared, irrigation will be extended to the planter areas along the building and inside the courtyard wall. There will be new plantings installed and the flagstone will be replaced with a crusher fine gravel. The end result will be a more welcoming and safe place for staff to enjoy. 
---
1/15/20 - Utilities Celebrates Tom Davis
With nearly two dozen Ford Utilities staff members gathered in a conference room, and others in the hallway outside, Associate Director Larry Schuster raised his soft drink and wished outgoing Utilities Maintenance and Operations Manager Tom Davis well on his next adventure in life. After 15 years at Ford Utilities, Davis is retiring from UNM at the end of January 2020. At the early going away party, staff swapped stories and enjoyed a potluck meal of BBQ and burgers, as well as several homemade desserts. With his depth of experience and tremendous institutional knowledge, Davis's shoes will be hard to fill. Best of luck, Tom!
---
12/13/19 - Special Activities Prep for Winter Commencement
The extraordinary effort to bring pomp and circumstance to The Pit for Friday's UNM Winter Commencement would not be possible without the work of Facilities Management's Special Activities unit. Fans of Lobo Basketball are used to seeing teams jogging down the south ramps to the floor of The Pit on game day. But on Wednesday and Thursday, it was Special Activities movers making that same trip up and down the ramps 30-40 times to deliver chairs for graduates and dignitaries, the lecterns for honored speakers, plants to adorn the stage, and even the thousands of diploma cases handed to graduates. Working in collaboration with The Office of the Secretary, along with multiple contractors and departments, the transformation takes 2-3 days.
However, there won't be the luxury of time for teardown once graduation is complete on Friday night. While tassels are flipped and mortarboards are tossed, Special Activities staff will be waiting in the wings. The minute the new UNM alumni have left the floor, FM movers will snap into action and work late into the night to return The Pit to its storied greatness in time for the Lobo tip-off on Saturday afternoon against the arch rival NMSU Aggies.
---
12/2/19 - Romero Receives HSC Admin Staff Award
Congratulations to Bernadette Romero for receiving a 2019 HSC Administration Staff Award. Bernadette is a Facilities Services Tech for Area 2. Winners of the HSC honor have been recognized for going "above and beyond to show excellence in HSC Values - integrity, accountability, performing duties with compassion and respect for others; and working at the highest level of professionalism."  Area 2 Manager Leo Lucero says, "We're very proud of her and she is well deserving of this honor."
On behalf of everyone at Facilities Management, thank you, Bernadette, for your hard work and commitment to excellent service.
---
11/21/19 - Giving Season
It is that time of the year again when Facilities Management comes together and through the generosity and thoughtfulness of the staff, we sponsor some of our own.
Again this year, FM will be hosting the Giving Tree. The Giving Tree allows staff to select a family member's tag, purchase the item they need and return it to the front office by December 16th. The gifts will be presented to the family in time for Christmas.
Please join us for the lighting of the annual FM Giving Tree, which will be this Friday (11/22) at 10:30 a.m. in the FM Admin Offices. Light refreshments will be served
---
11/18/19 - Navien Puts FM in Focus
On Friday, 11/15, representatives from Navien, Inc. were onsite at UNM to talk to FM staff about their on-demand water heaters currently in use at the Tow Diehm Athletic Facility. As part of a broader renovation of Tow Diehm, which includes athletic offices, training facilities, weight room, and the football locker room, the antiquated gas-fired boiler used for heating water needed to be replaced.
After analysis by FM Engineering & Energy Services, it was determined that an on-demand system would be far more energy efficient and would conserve more water than replacing components of the existing 1000+ gallon holding tank system that required continuous energy to maintain water at proper temperatures. Considering water usage at the facility spikes in the fall during football season, but is very limited the remainder of the year, this old method was particularly inefficient. The new on-demand system does not engage until water is needed, saving a significant amount of energy in the off-season.
Navien arranged to come to UNM to interview FM staff on their experiences with the installation and operation of the system. They also took pictures and video of staff interacting with the equipment for promotional materials. While UNM does not specifically endorse products, the FM staff interviewed reported excellent results in working with the Navien equipment on a day-to-day basis. 
---
11/8/19 - Duarte Named FM All Star
Last week, FM Director Al Sena awarded Ron Duarte the FM All Star Award. Custodial Operations Manager Victor Tovar nominated Duarte, saying, "Ron is consistent, dependable and accurate in carrying out responsibilities to a successful conclusion. Ron maintains a very positive attitude always wanting to help others. We really appreciate having Ron on our team."
Congratulations, Ron!
---
10/31/19 - Annual United Way BBQ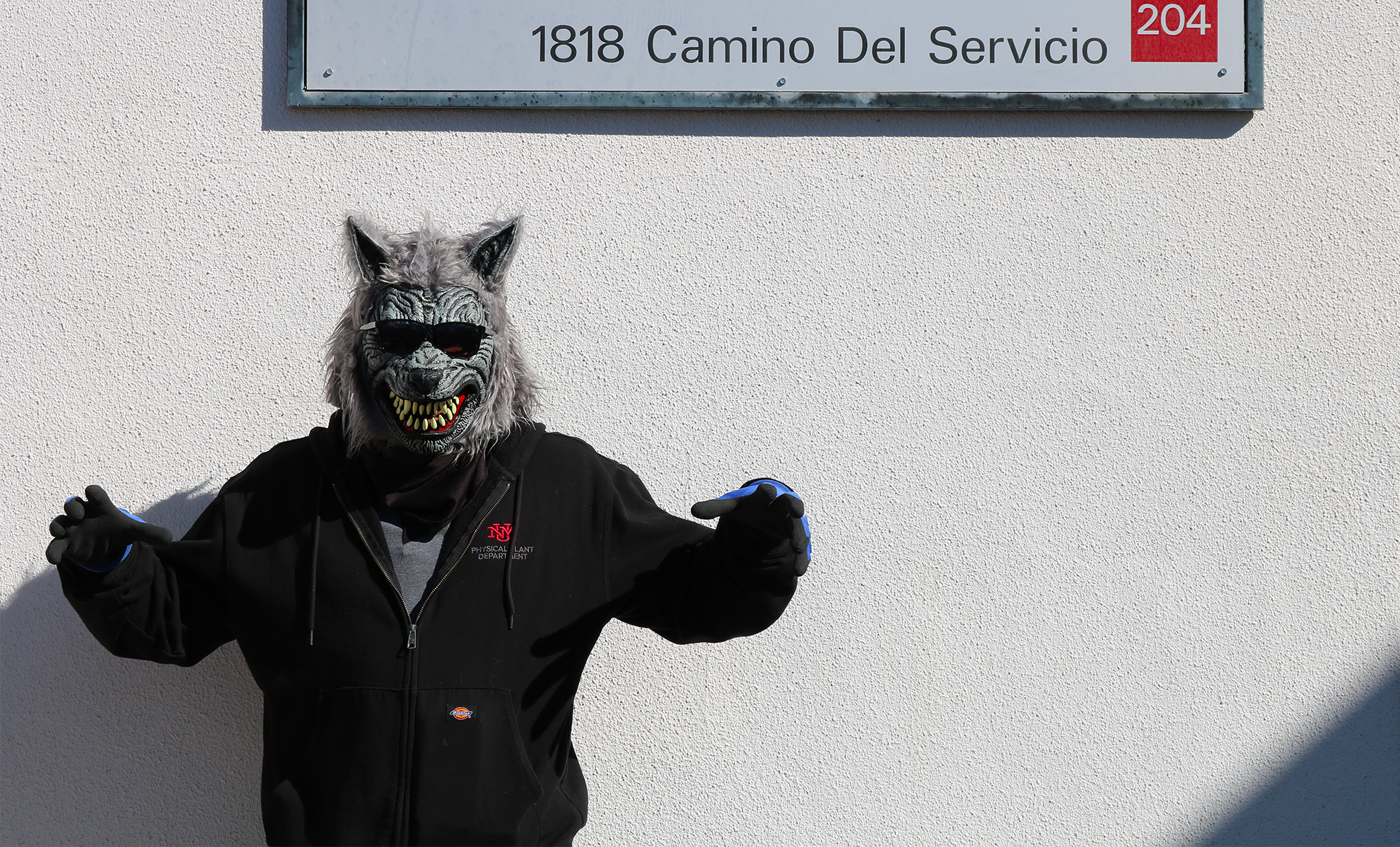 FM is proud to announce that as a result of the generosity of staff and vendors, the 2019 Annual United Way BBQ reached record giving, exceeding $3,400. This represents a 19% increase over 2018 giving levels. The funds were raised though the purchase of meal and raffle tickets by the staff, as well as cash and gifts from FM vendors and business partners. A wide variety of raffle prizes were donated by nearly 30 vendors and included gift certificates, clothing items, tools, and a custom restored child's fire truck pedal car. 
Funds raised by Facilities Management contribute to the broader UNM Gives Campaign which supports United Way of Central New Mexico.
Click HERE to see the United Way BBQ Photos
---
10/30/19 - Sherman Named FM All Star
On Tuesday, October 29th, FM Director Al Sena awarded William Sherman the FM All Star Award. Area 4 Maintenance Supervisor Edwin Trujillo nominated Sherman, saying, "William Sherman (Bill) joined the Area 4 Facilities Management Department in April 15, 2019, as a Facilities Service Technician. William's responsibilities include monitoring and maintaining his assigned buildings, which incorporates over 392,788 square feet. William completes his daily walk-throughs, checking in with building coordinators to assure that all is well. He is very responsive to work order requests submitted by our customers, and communicates well to acknowledge their concerns. William demonstrates his understanding in teamwork by collaborating with management as well as with other technicians. He is always respectful towards others, and always maintains a positive attitude while willing to help anyone who asks. Thank you, William, for your exceptional work."
Congratulations, William!
(photo from left to right; Al Sena, William Sherman, Joe Lopez, and Edwin Trujillo)
---
10/25/19 - Billau Receives PAWS Award
At today's FM Environmental Services leadership meeting, Arborist Alan Billau was recognized by the UNM Staff Council for his recent PAWS award. The award is given to staff who "provide exceptional service" and "exemplify University values." You can read more about his nomination in the July FM News.
Congratulations, Alan!
---
10/22/19 - FM Huddle
FM Director Al Sena met with Area 1 Maintenance staff today in the first session of a new program, FM Huddle. For the program, Sena will travel around to the various units throughout the year to meet directly with the staff in the field. The goal is for FM leadership to hear first-hand any challenges they may face, and any issues or suggestions they may have to help FM provide the best possible service. The program also allows the director to share important information relating to their unit or FM in general, and also share a snack as a small token of gratitude for the hardworking FM staff. 
---
10/18/19 - Fall Frenzy in full swing
Facilities Management Grounds and Landscaping partnered with ASUNM's Community Experience group to host the annual Fall Frenzy on October 18th. Grounds and Landscaping leadership coordinated approximately a dozen projects across central and north campus for students to participate in throughout the morning. Projects included replacing mulch around trees and in plant beds near Smith Plaza and adjacent to Central Avenue and University Boulevard, adding new plants to the HSC campus and on the SUB mall, sorting recycling, and painting benches. The cleanup efforts are scheduled each year to coincide with Homecoming Week to not only beautify the campus, but help build comradery and school spirit among the students. 
---
10/14/19 - FM featured in Daily Lobo article on green buildings
The Daily Lobo recently did a story on green buildings on campus, focusing on LEED certified buildings and efforts FM is taking to make our campus more sustainable. The article, written by Colin Pena, can be found here. Office of Sustainability Manager Mary Clark and Facilities Engineer Don Swick were quoted in the article. 
---
10/10/19 - Projects during Fall Break
FM is taking advantage of the quiet campus during Fall Break to complete projects that would otherwise impact campus users.
On Oct. 10th, along Redondo Road, the Utilities Division is replacing and moving a fire hydrant from the south side of the road to the north and connecting it to the Utility Division water system. And on the west side of Mitchell Hall, the Grounds and Landscaping unit is repairing a problem sidewalk area. A third project will begin on Oct. 11th on the HSC campus. On the east side of the Health Sciences Center Library and Informatics Center (HSCL), Grounds and Landscaping will be repairing the sidewalk. 
Currently, traffic along Redondo is down to one lane in both directions, and near Mitchell Hall part of the sidewalk is closed, but access in both areas remains open. Some sidewalk areas near HSCL will be closed as well, but every effort will be made to maintain reasonable access. Please use caution when traveling through these areas. All projects are expected to be completed before students return from break. 
---
10/7/19 - FM represents at UNM Gives Salsa Showdown
On October 7th, three members of the Facilities Management team (Athena Salazar from HSC Custodial, Vidal Tapia from Area 2 Maintenance, and Tina Maher from Area 4 Maintenance) brought the heat to the UNM Gives Salsa Showdown at the SUB. The salsa and guacamole competition was initiated this year by UNM President Garnett Stokes as a fun way to kick off the UNM Gives United Way October fund drive. Registration for the event was limited to 20 entrants and the grand prize is a year of free parking, but the real prize is knowing you have the best salsa at UNM. The winner will be announced in the President's Weekly Perspective.
---
10/01/19 - FM attends local job fairs
On October 1st and 2nd, The University of New Mexico Facilities Management (FM), along with UNM Human Resources will be attending local job fairs to share information about FM's many career opportunities with the job seeking public. The first event is the 2019 Career Connections Fair sponsored by the New Mexico Department of Workforce Solutions and the second is the Holiday Hiring Event sponsored by CNM. FM's partnership with Human Resources represents a more aggressive approach the department is taking in filling key positions and personally connecting with those seeking jobs. 
---
09/27/19 - Texas Tech at El Paso visits FM
On September 26, The University of New Mexico Facilities Management (FM) hosted staff from the Facilities and Safety Services Department at Texas Tech Health Sciences Center (TTUHSC). Their visit was to receive training from FM staff on processes, procedures, and best practices related to TMA, UNM's work order processing and reporting system.
The training covered all aspects of the system, including work order processing, preventative maintenance, reporting, accounting practices, project management, & inventory tracking.
FM staff providing the training included Work Control Manager Daniel Perea, Financial Analyst David Jones, Engineering Administrative Assistant Acacia Chavez, as well as members of the Area 3 Maintenance Team who provided a demonstration on iPad integration with the work order system.
---
9/24/19 - Map case replacement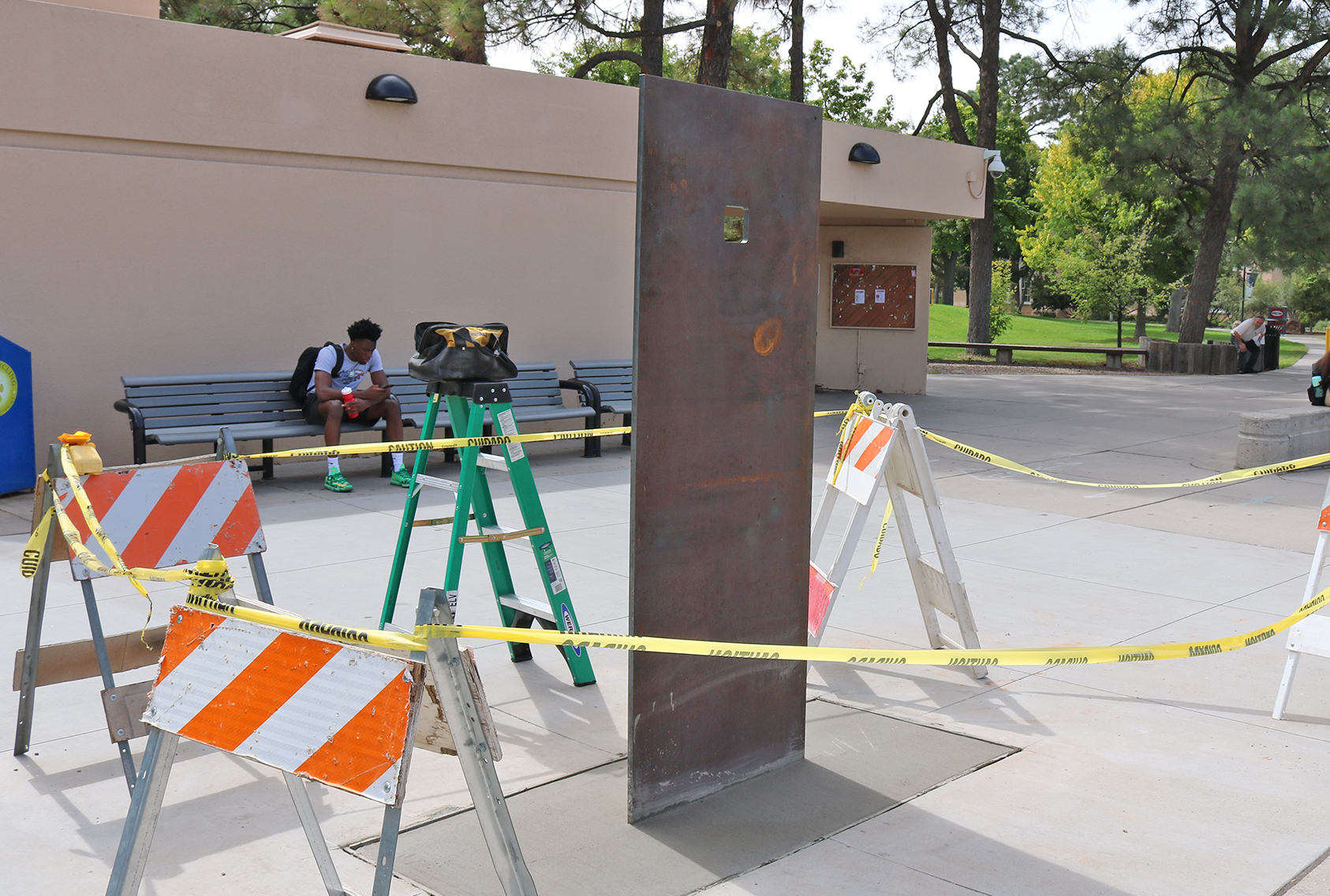 The FM Sign Shop completed a project to replace the map case wayfinding sign at the Duck Pond shuttle stop. The sign was damaged beyond repair as the result of a vehicle accident over summer break and it had to be re-fabricated from scratch by an outside contractor. The project was more extensive than expected because each of the flag-style wayfinding signs (as identified by the red logo panel) are unique to the location and purpose. The replacement gave the Sign Shop the opportunity to update the UNM logo and install the most current campus maps to best aid students and staff in finding their way.
---
9/20/19 - Breakroom refresh
Area 1 maintenance staff got to work Friday, September 20 on refreshing the staff breakroom in the Service Building. The project began a couple days earlier by removing random items that slowly cluttered the breakroom over the years, including an old TV, unclaimed dishes, outdated magazines, forgotten food, and a surprisingly large number of Taco Bell sauce packets.
According to Giovanna Archuleta, who initiated the clean-up, "Along with getting rid of the old stuff, the room is getting a fresh coat of paint, including UNM accent colors, new chairs, and the floors will get refinished."
The project will be completed in the coming week, which is welcome news to Archuleta. "This project was overdue. Our staff works so hard, and they really deserve a decent place to take their breaks and eat their lunches."
---
9/4/19 - Safety Walk
On a beautiful early September evening, Facilities Management (FM) leadership congregated in a Student Union Building ballroom with over 100 students, faculty, and staff for the annual campus safety walk.
Rob Burford, of the University of New Mexico (UNM) Compliance Office, coordinated the annual event. He explained the purpose of the walk was to evaluate campus lighting and safety issues. By gathering feedback directly from UNM students, who are the primary campus users at night, FM and other safety-focused departments gain a better understanding of how safe the campus is, and feels, for the community. Additionally, FM gets first-hand reports of any maintenance issues that may go unnoticed during daylight hours.
After a brief presentation and instructions, Burford divided the students and staff into small groups and dispatched them to various points of campus to document any issues they discover. While the groups where completing their checklists, the FM leadership team, including representatives from Maintenance, Environmental Services, and Engineering, took full advantage of the opportunity and set out to do their own evaluation of the campus.
In his comments to the volunteers prior to the walk, FM Director Al Sena expressed gratitude for the large turn out and for the cooperation of the entire UNM community in making campus safe.
---
For past stories, see the FM News