Focus@FM
9/24/20 Congrats to our September All Star and 1st ever Peer Recognition winner!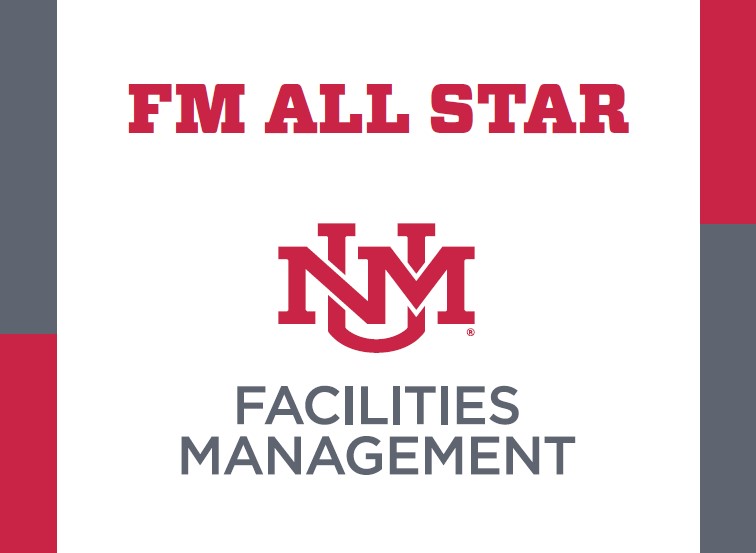 The Employee Recognition Committee Announces September Award Winners
September All Star Ruben Sanchez
Ruben Sanchez (Grounds and Landscaping) has consistently been available for irrigation breaks and malfunctions after hours. He always volunteers for this work and his knowledge of the UNM irrigation system is extensive. He has mentored our newer irrigators, and guides and assists as needed. He has always supported Grounds needs with new building construction and its impacts. He ensures quality and goes out of his way to keep tabs on these projects when we are unable. He creates work orders when none were given for additional work needed. His relationship with UNM, its employees, and contractors is a valuable one. He is fully deserving of an FM All Star. -  Rich Schorr
September Peer Recognition
John Sannar (Main Custodial) is always willing to lend a helping hand, even when it is not his department. John will stop what he is doing to help others and goes beyond his duties to make sure things get done right the first time. John is also part of the COVID cleaning team. – Emmet Martinez (Lock Shop)
7/18/20 - Congratulations to July and August FM All Stars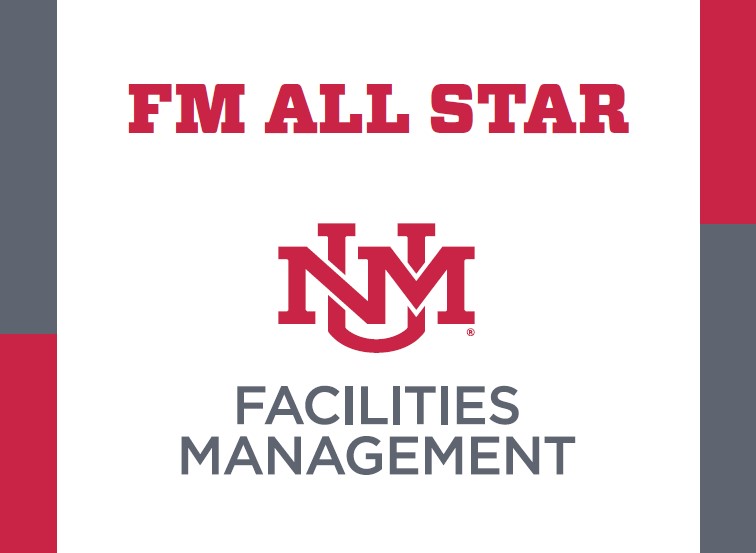 The Employee Recognition Committee Announces the July and August FM All Stars 
July All Star - Tyler Grassie 
As a Plumber 2, Tyler has been a Facilities Management team member in Area 3 for over 2 years. During this time, Tyler has consistently been a dedicated employee who is committed to getting the job completed correctly the first time, on time, on budget, and most important, safely, often exceeding his customers' expectations. Tyler routinely provides outstanding customer service to the students, faculty and staff of Area 3. Tyler quickly responds to plumbing issues that arise in his assigned facilities and he exhibits a genuine concern for the students' learning environment and safety. Tyler regularly makes recommendations and finds solutions to various facility related plumbing shortfalls and issues he encounters. Tyler is always willing to come in early or stay late to address plumbing issues that could possibly impact his facilities and his customers. Tyler is a key contributor to the success of Area 3's Facilities Maintenance team. His vast plumbing and mechanical knowledge equate to timely repairs in his assigned facilities. We are very fortunate to have Tyler as a member of our maintenance team in Area 3. - Steven Dussart, Area 3 Maintenance Manager
August All Star - Joe Sucher 
Joe Sucher has been the Preventative Maintenance Coordinator for the past five years and also administers the Water Management Program for Facilities Management. He is very hard working and a self-starter, which has been invaluable in our effort to transition the Water Management Program in-house from an outside consultant. Joe has been a great asset to the Facilities Maintenance Division in helping keep our buildings in top condition. - Vince Chavez, Facilities Maintenance Division Manager
Other nominees for July and August included:
Jacob Benavidez nominated by Lisa Reeder
Dominique Roark nominated by Nick Royle
Milton Schwab nominated by Scott Lewis
Brian Aragon nominated by Leo Lucero
Acacia Sanchez-Chavez nominated by Bob Notary
Nominations for the September All Star and Peer Recognition awards are open until Monday, August 31st. You can find information on these award programs and nominations forms here: https://fm.unm.edu/for-fm-staff/employee-recognition.html
7/17/20 - Simpson Named 2019 FM Outstanding Manager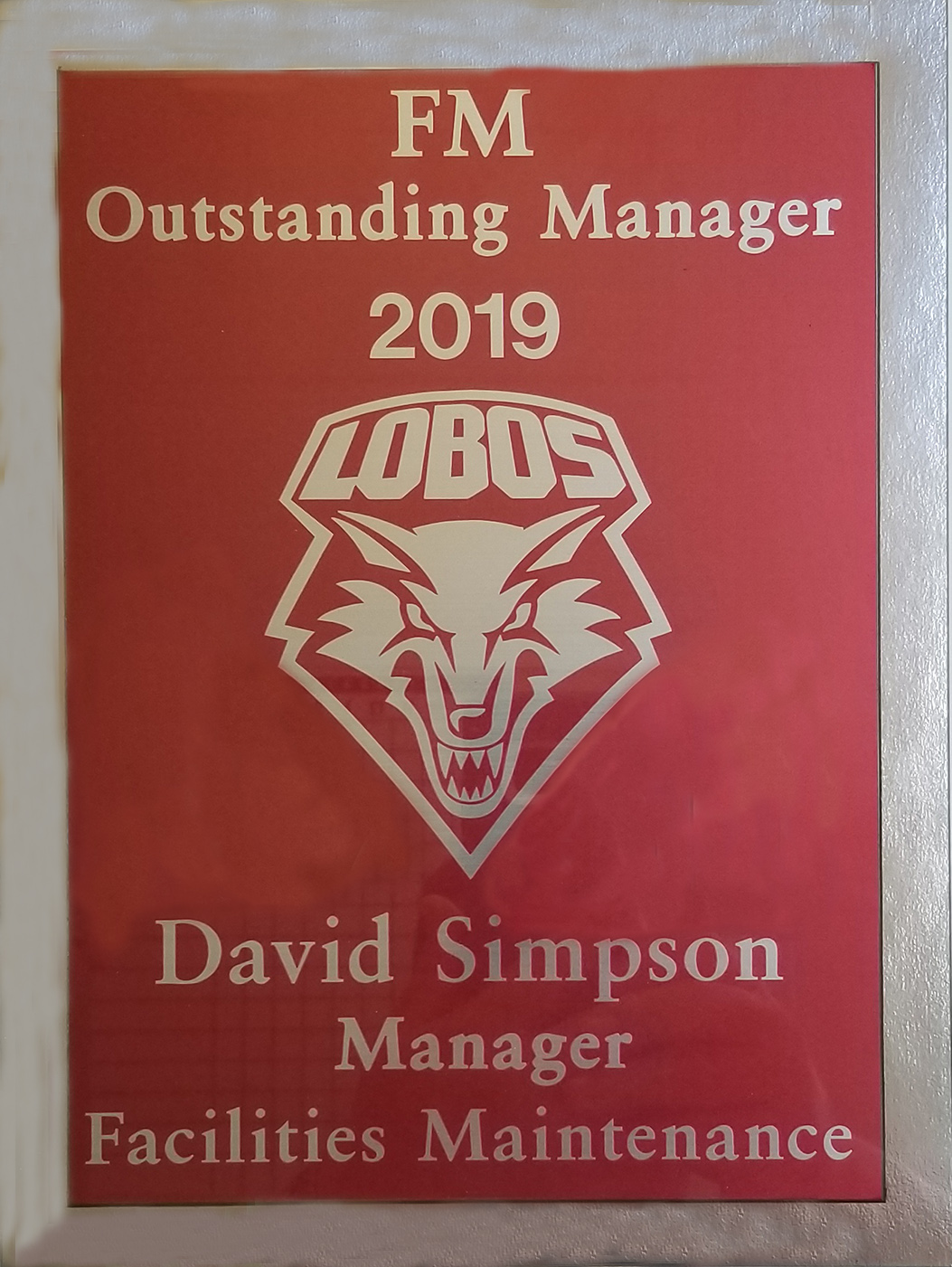 Congratulations to David Simpson on being name 2019 FM Outstanding Manager! 
Simpson received nominations from both current and past FM staff, each commending his positive attitude and responsiveness to the needs of customers and his team.  
One nominator noted, "Dave exhibited excellent customer service during the entire time I served with him at FM (4 years). His responsiveness was exceptional, and his care and concern for his employees was notable. He would ask questions and bring me in the loop when issues would arise. Overall, I would say that he is one of the top managers at FM."
Another added, "He is willing to go to bat for his guys. He is big on recognizing his staff…and lets them know how things are going."
In presenting the award, FM Director Al Sena said to Simpson, "You have displayed, through difficult circumstances, a level of work that we aspire to and you've helped keep the University and the department successful."
Those recognized for this award demonstrate the qualities of outstanding leadership, customer service, promoting a positive work environment and making a significant contribution to the success of their work groups. 
Nominations for the 2020 Outstanding Manager will open in February 2021.
3/12/20 - FM Actions Regarding COVID-19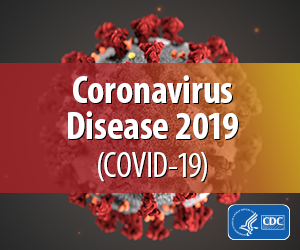 Prior to any confirmed cases of COVID-19 in New Mexico, UNM Facilities Management had been working to stay ahead of the virus. In addition to making sure custodial staff are trained on appropriate cleaning protocols, our Environmental Services Division has been stocking up on items such as hand sanitizer, disinfectant, paper products, and other cleaning supplies and equipment to ensure we can maintain clean spaces and protect the campus users to the best of our ability and resources.
We have also been employing sanitizing equipment on a rotational basis to classrooms, conference rooms, and other areas where large gatherings may occur. The equipment emits sanitizer that disinfects surfaces such as walls, desks, and other furnishings. While we are being proactive in setting a baseline of sanitization, as well as focusing daily on high risk areas such as doorknobs, elevators, restrooms, and countertops, it is not possible to sanitize every room after each use. We, and the entire campus community, are dependent upon facility users taking personal precautions, such as following hand washing guidelines and staying away when sick, to help maintain a virus free learning environment. Information and advice on staying healthy on campus and the latest news on UNM's response to the virus can be found here.
It should be noted that UNM Facilities Management does not maintain all buildings on campus. Some facilities use outside contractors or other UNM staff for custodial services. FM is coordinating with these contractors and staff to ensure cleaning standards are consistent and effective across campus. 
To see which buildings FM services and to see responses to frequently asked questions regarding our cleaning processes, visit the Custodial Services page on the FM website. In the Links and Information section, you'll find a button to take you to this information, as well as contact information for our custodial leadership.
---
3/6/20 - Final Touches on PAIS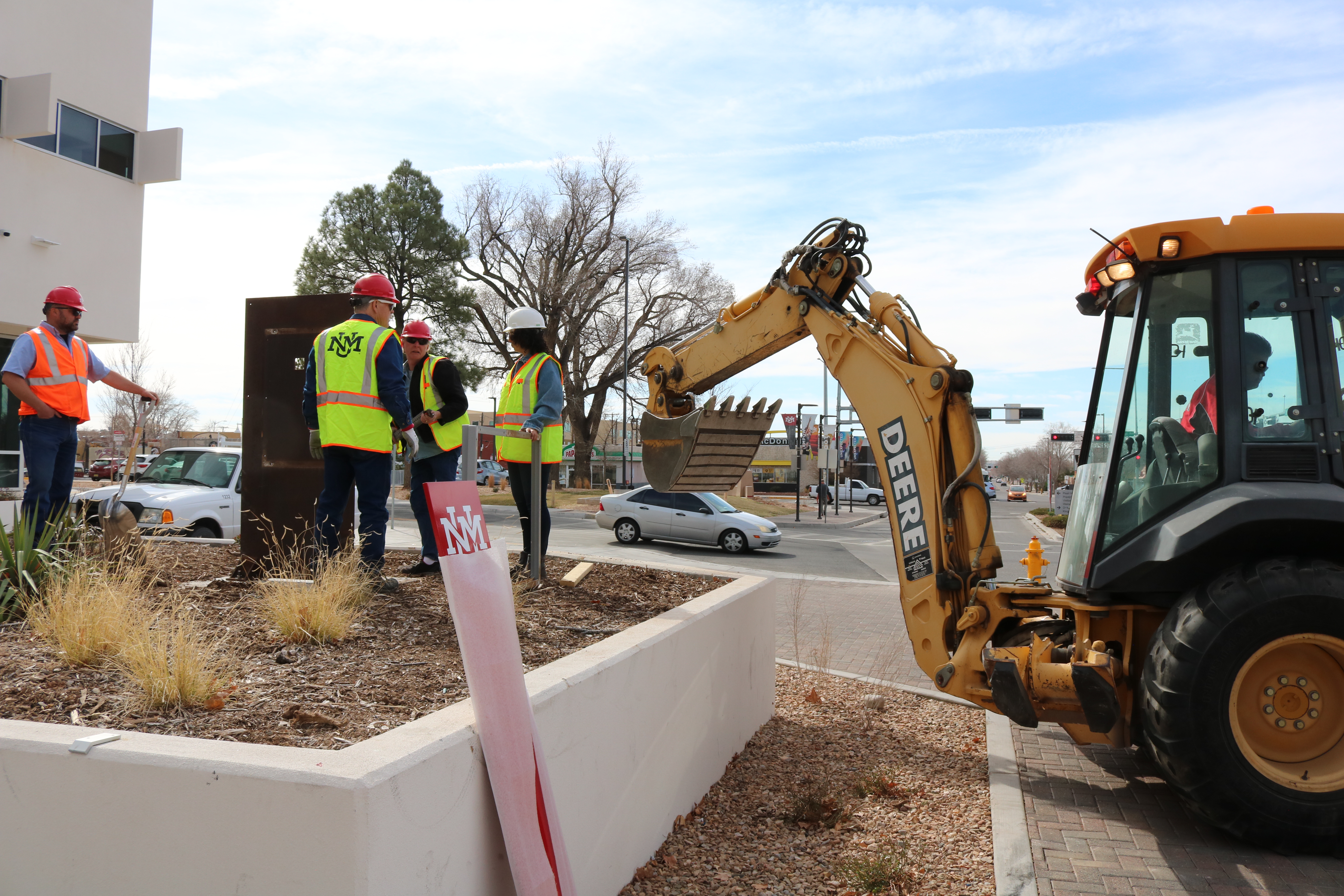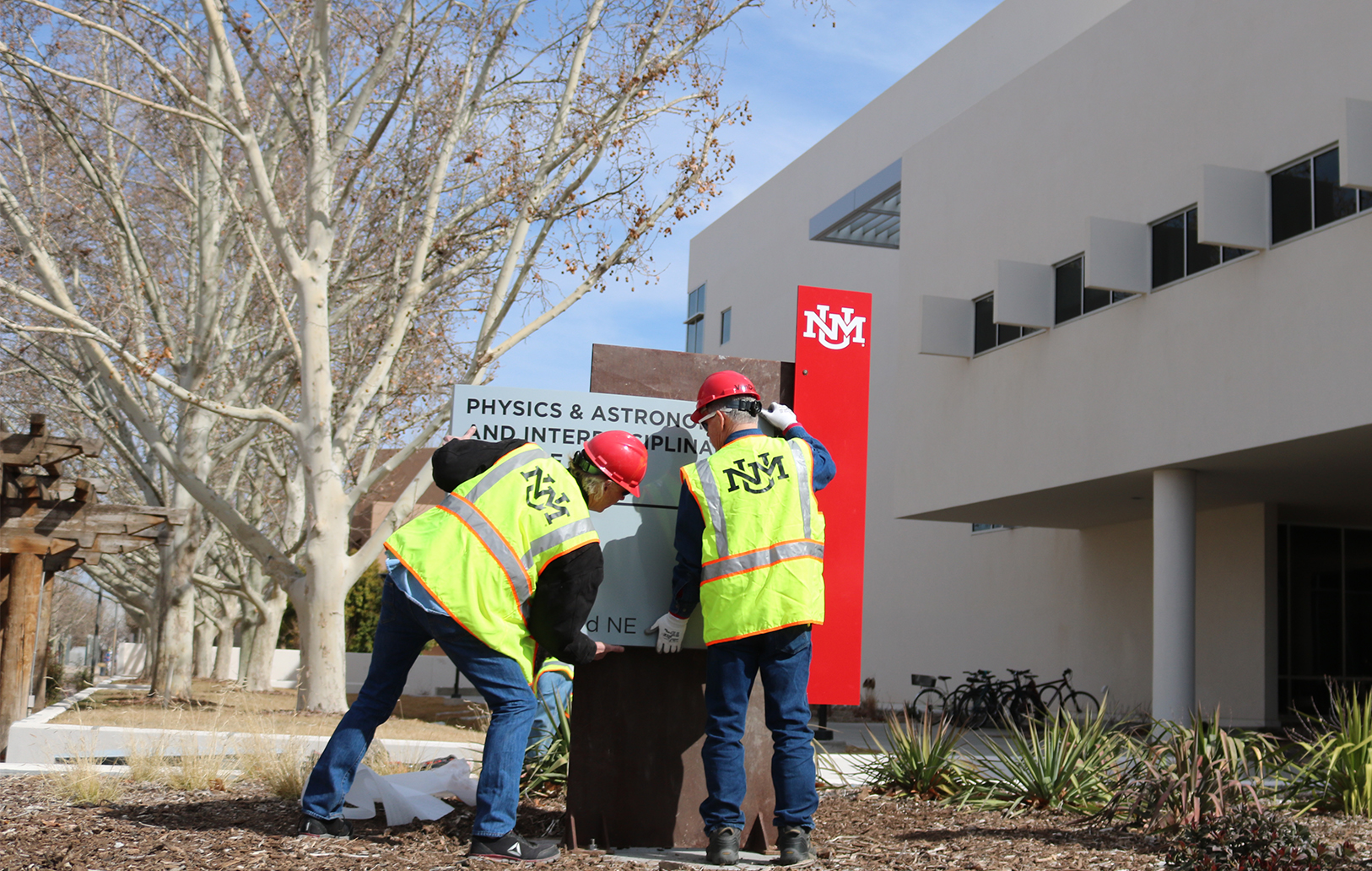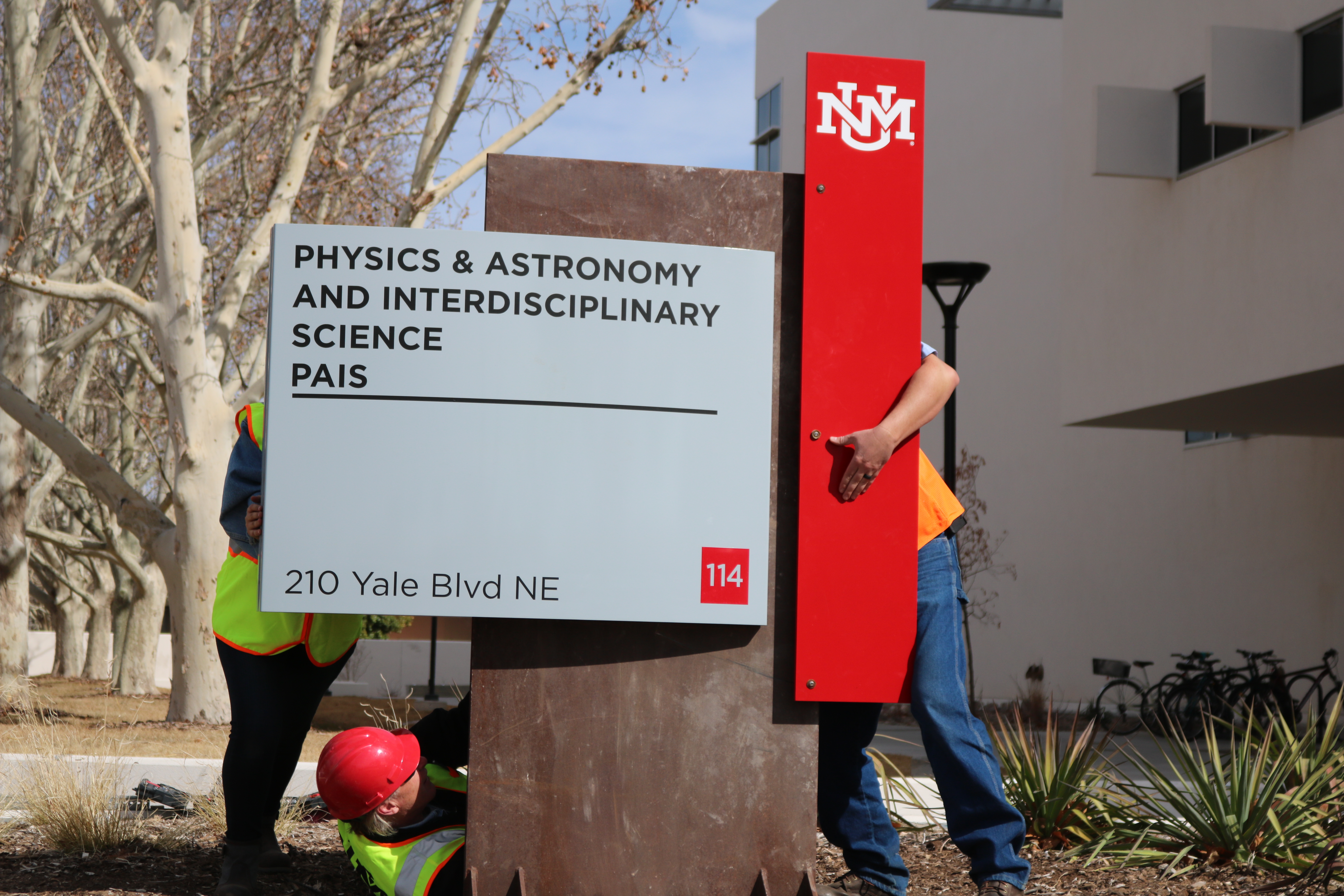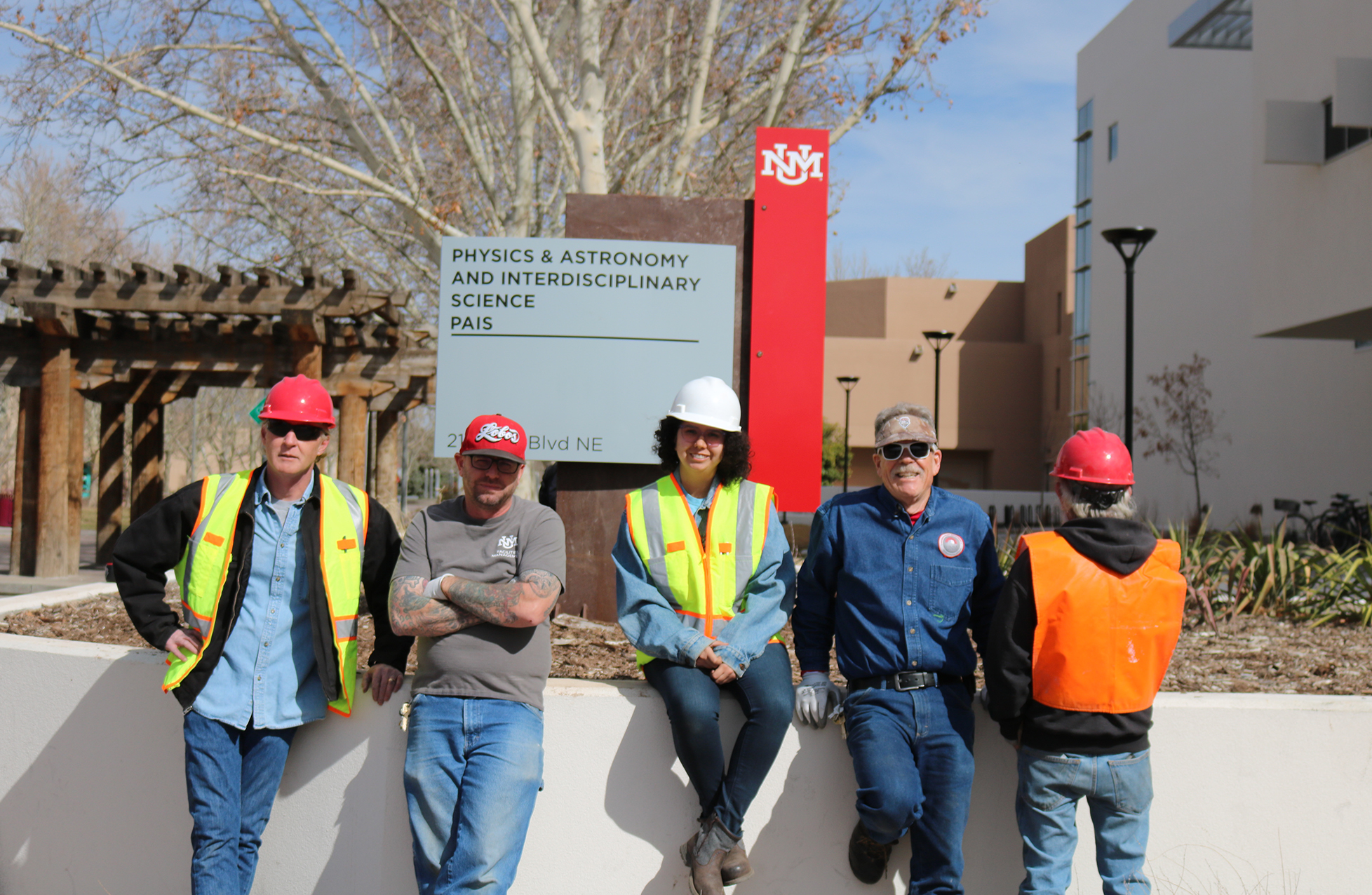 On March 6, the Sign Shop, with an assist by Special Activities and Grounds and Landscaping, installed the building identification sign on the new Physics & Astronomy and Interdisciplinary Science (PAIS) facility. The Sign Shop has also started a project to update wayfinding signage with the new UNM logo to ensure consistency in branding across campus. 
---
2/26/20 - Natera Receives PAWS Award
On February 24th, FM Human Resources Tech Teresa Natera was presented with a gift basket by Staff Council Awards and Recognition Committee member Celest Cole. Teresa was recently named a PAWS Award winner for her exceptional service to FM staff. She was nominated by FM Sustainability Manager Mary Clark for going above and beyond in her efforts to help staff navigate complex HR processes. The nomination read as follows:
"Teresa processes all the personnel paperwork in Facilities Management and her work is very critical to our department. Teresa is very hard-working and dedicated. She makes herself available to assist Spanish-speaking employees when they have questions or concerns about their benefits or other UNM-related issues by postponing her lunch break until 1:30-2:00 so that these employees, who end their shift at 12:30, can see her to ask their questions before they leave. Teresa most recently helped another department's new HR Tech navigate the hiring process so that a Facilities Management employee could successfully transfer to a higher-grade position. She has helped me many times get student employees hired in a timely fashion because she knows who to call in Student Employment and how to "advise" their student employees through the paperwork approval process. In a department of over 380 people, she is kept very busy but is always helpful and cheerful despite her tremendous work load. I believe every department could benefit from such an efficient and effective HR person as Teresa."
Thank you, Teresa, for your service and commitment to Facilities Management staff!
---
2/4/20 - Service Building Entry Facelift 
Under the guidance of FM Grounds and Landscaping, contractors began work on February 4th to make improvements to the Service Building Courtyard. The first steps are to remove the existing flagstone which is crumbling and heaving presenting a safety hazard. Once the area is cleared, irrigation will be extended to the planter areas along the building and inside the courtyard wall. There will be new plantings installed and the flagstone will be replaced with a crusher fine gravel. The end result will be a more welcoming and safe place for staff to enjoy. 
---
1/15/20 - Utilities Celebrates Tom Davis
With nearly two dozen Ford Utilities staff members gathered in a conference room, and others in the hallway outside, Associate Director Larry Schuster raised his soft drink and wished outgoing Utilities Maintenance and Operations Manager Tom Davis well on his next adventure in life. After 15 years at Ford Utilities, Davis is retiring from UNM at the end of January 2020. At the early going away party, staff swapped stories and enjoyed a potluck meal of BBQ and burgers, as well as several homemade desserts. With his depth of experience and tremendous institutional knowledge, Davis's shoes will be hard to fill. Best of luck, Tom!
---
12/13/19 - Special Activities Prep for Winter Commencement
The extraordinary effort to bring pomp and circumstance to The Pit for Friday's UNM Winter Commencement would not be possible without the work of Facilities Management's Special Activities unit. Fans of Lobo Basketball are used to seeing teams jogging down the south ramps to the floor of The Pit on game day. But on Wednesday and Thursday, it was Special Activities movers making that same trip up and down the ramps 30-40 times to deliver chairs for graduates and dignitaries, the lecterns for honored speakers, plants to adorn the stage, and even the thousands of diploma cases handed to graduates. Working in collaboration with The Office of the Secretary, along with multiple contractors and departments, the transformation takes 2-3 days.
However, there won't be the luxury of time for teardown once graduation is complete on Friday night. While tassels are flipped and mortarboards are tossed, Special Activities staff will be waiting in the wings. The minute the new UNM alumni have left the floor, FM movers will snap into action and work late into the night to return The Pit to its storied greatness in time for the Lobo tip-off on Saturday afternoon against the arch rival NMSU Aggies.
---
12/2/19 - Romero Receives HSC Admin Staff Award
Congratulations to Bernadette Romero for receiving a 2019 HSC Administration Staff Award. Bernadette is a Facilities Services Tech for Area 2. Winners of the HSC honor have been recognized for going "above and beyond to show excellence in HSC Values - integrity, accountability, performing duties with compassion and respect for others; and working at the highest level of professionalism."  Area 2 Manager Leo Lucero says, "We're very proud of her and she is well deserving of this honor."
On behalf of everyone at Facilities Management, thank you, Bernadette, for your hard work and commitment to excellent service.
---
For previous stories, see the FM News